Corps of Discovery II brings the Lewis and Clark story to your hometown in a unique traveling exhibit hosted by the National Park Service. An exhibit tent, 250-seat multimedia-ready auditorium, keelboat replica and tipi provide opportunities for visitors to interact with the journey of the Expedition in new ways.
2005

Date
Region
City
Site

Oct 1-9

1

Clarkston, WA

Port of Clarkston

Oct 14-17

2

Kennewick, WA

Columbia Park

Oct 21-24

1

Pendleton, OR

Umatilla Reservation

Oct 28-31

3

The Dalles, OR

Columbia Gorge Discovery Center

Nov 7-15

5

Long Beach, WA

City Center

Nov 19-22

5

Seaside, OR

Convention Center

Nov 28-Dec 11

4

Vancouver, WA

Fort Vancouver

2006

Date
Region
City
Site

Mar 13-20

5

St. Helens, OR

Waterfront

Mar 25-Apr 2

5

Grand Ronde, OR

Grand Ronde Reservation

Apr 7-10

3

Stevenson, WA

Fairgrounds

Apr 14-17

2

Toppenish, WA

Yakama Nation Heritage Center

Apr 22-25

3

Warm Springs, OR

Warm Springs Reservation

Apr 29-May 7

1

Pendleton, OR

Umatilla Reservation

May 12-15

1

Dayton, WA

Main Street
Corps II Resources
Lewis & Clark Bicentennial in Oregon
503.768.7444, www.lcbo.net
Oregon Historical Society
503.306.5200, www.ohs.org
Oregon State Parks
800.551.6949, www.oregonstateparks.org
Oregon Tourism Commission
800.547.7842, www.traveloregon.com
Washington State Historical Society
888-BE THERE (888-238-4373)
www.washingtonhistory.org
Washington State Parks and Recreation
Central Reservations 888.226.7688
www.parks.wa.gov
Washington State Tourism
800.544.1800, www.experiencewashington.com
Corps of Discovery II returns from Pacific to Vancouver winter
(Vancouver, WA) - The Lewis and Clark Expedition had voted and were building Fort Clatsop in the wind and rain of northwest Oregon. Two hundred years later, Corps of Discovery II: 200 Years to the Future leaves the coast for urban America and a two-week stay along the Columbia River.
Corps of Discovery II closes out its 2005 season Nov. 28 through Dec. 11, 2005. The giant tents of Corps II will be set up near the O.O. Howard House on the Vancouver National Historic Reserve.
Corps II will be open from 9 a.m. to 5 p.m. daily with a special opening ceremony at 8:30 a.m. Nov. 28. Admission is free and there is plenty of parking nearby.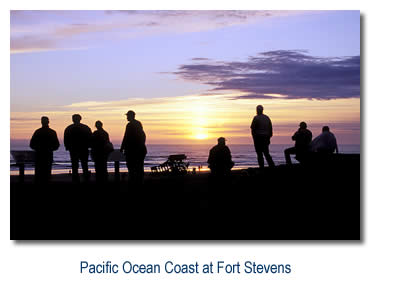 Walk a mile - or more than 450 miles through Oregon and Washington - and follow in the footsteps of Meriwether Lewis, William Clark and the rest of the courageous team who, led by Sacagawea, explored what is now present-day Oregon and Washington from October 1805 to May 1806.
With a charge from President Thomas Jefferson to explore the Pacific Northwest, navigate the Columbia River and reach the Pacific Ocean for future trade opportunities, the explorers accomplished extraordinary feats. When the journey began, Lewis and Clark and the Corps of Discovery could not have imagined what their adventure would entail.
They encountered native peoples, resulting in a clash of cultures that continues today. They documented plant and animal species not previously categorized by science. On their journey, the Corps passed through a diverse land of high desert hills, evergreen forests, caves, waterfalls, snow-capped mountains and wild rivers.
The unique attributes found in this region were spirited treasures to Lewis and Clark and continue to attract today's adventurers. From history to hiking, rafting to relaxing - Oregon and Washington o¤er something for everyone. Learn about the tribal people who lived, and continue to live, throughout the Pacific Northwest, and the critical role they played in helping the Corps of Discovery with their journey toward the Pacific Ocean. Spend the night near one of the many sites where Lewis and Clark set up camp. Visit hundreds of culturally diverse communities and towns along the Lewis and Clark Trail.
Although much of the area has been developed, it's likely you will see some of the same scenery Lewis and Clark saw 200 years ago.
Arriving in the Pacific Northwest, Lewis and Clark found a lush countryside rich with possibility. And the promise of yesterday is today's reality - from the trade routes along the Columbia, Snake and Willamette rivers to Hood River's many orchards to the numerous vineyards in Eastern Washington.
Take a river-rafting trip through Hells Canyon. Or windsurf in the Columbia River Gorge. Follow trails through one of the region's many mountain areas, such as Mount St. Helens, Mount Hood or Mount Adams. Or simply rejuvenate your spirit with a stay at one of the area's many bed-and-breakfast inns or rustic hotels. Drive along the coastline to watch the sun set over the Pacific Ocean or along one of the many scenic highways and byways connecting this region. Sip wine from some of the country's best wineries. Visit the Warm Springs, Umatilla or Yakama Indian reservations to experience tribal culture and heritage. Whatever path you take, you'll be amazed by the rich history and culture of the Pacific Northwest. The possibilities are endless.
Now it's your turn.